My apologies for the somewhat randomness of last night's post. I fully intended on having something written by the time I went out last night, but I just ran out of time. By the time I got around to writing, was after midnight and the piece of written slightly under the influence of alcohol. I'm not a big fan of going out to the bars in the small towns around where I live. There is the ever present risk of having one drink too many and risking a DUI because there is no Taxi service or any other kind of public transportation. There's also an underlying feeling of despair in a lot of these bars, a lot of people who feel like they are stuck in place and time. I never like the idea of going out and getting drunk because there is nothing else to do, and around here there is really is not a whole lot else to do at night. Such is life in the small town. I'm actually alright with this arrangement because I would honestly rather be reading or watching a cool movie then out at a bar, listening to music I hate and dealing with drunk people.
-
It's a bit snowy here in NW Illinois. I've taken advantage of the poor weather by reading a large chuck of The Wind-Up Bird Chronicle, which is getting more spectacular every chapter. I love how Murakami uses all the crazy, dream like sequences in Mr. Okada's life to mirror what is going on in his mundane and kind of sad day-to-day existence. There's something very Freudian about the whole thing. I'm just past the halfway point as of this writing, and I look forward to seeing how all the stray threads of this story come together.
-
I've finally, fully seen most of the movies from last year that I thought I missed out on. The highlights of this films were, for me: 12 Years A Slave, Her, and Inside Llewyn Davis. All three are absolutely worthy of praise, and just add to what was already an amazing year for movies. Here's a top ten list of movies I think are as good or better than anything that came out last year:
The Wolf Of Wall Street
Her
Inside Llewyn Davis
Frances Ha
12 Years A Slave
American Hustle
Drinking Buddies
Gravity
Before Midnight
Captain Phillips
I think what Steve McQueen was able to do with 12 Years A Slave is really extraordinary, and the story the movie tells is incredibly powerful. The idea of slavery is such a distant one for most Americans. It's no wonder it was so hard for the film to be made, because having such an honest portrayal of the horrors and atrocities of our collective past does not exactly scream profits for film studios. It's the job of great art to expose the true essence of humanity, for better or for worse. The performances of Chiwetel Ejiofor and Michael Fassbender are both great, and the restraint McQueen shows in his directing is very much appreciated. This is patient, calculated film making that says what it needs to say without wasting the viewers time. Every minute feels vital, as if to maximize the impact of it's message. While 12 Years A Slave wasn't my personal favorite movie of 2013, it was probably the most important film, and I wouldn't be surprised if it sweeps most of the major awards in the coming weeks.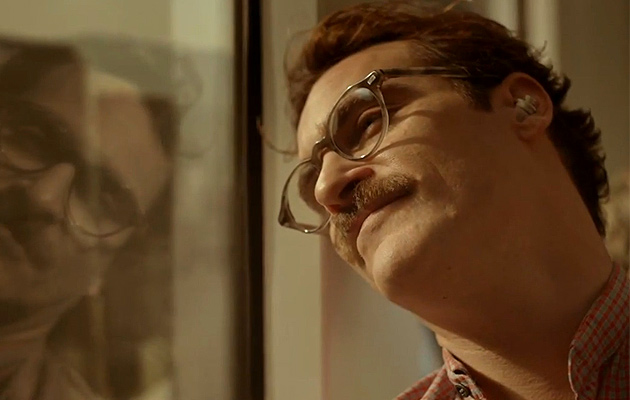 The film that most surprised me this year was Spike Jonze's triumph, Her. If you haven't heard the premise for the movie, it's pretty simple: Theodore Twombly breaks up with his girlfriend, falls in love with his operating system, and learns a lot about himself and the nature of love in the process. For as quirky as the setup seems, i found the film to be deeply affecting. Jonze is able to articulate the way relationships are changing due to technology, but stay the same at the most core levels. The hurt we feel over a breakup still stings as much now as it did 200 years ago, and will still sting 200 years in the future; when who know's, maybe we will have artificial intelligence so sophisticated that humans could fall in love with it. Her is an absolutely gorgeous movie.
It's setting is in a future version of Los Angeles and Jonze found a way to combine images from modern LA and also Shanghai, China. The film also does a really good job of imagining where technology could be in the next twenty years. None of the tech in Her seems unbelievable, which is important when the core premise of the film relies on the audience believing that a person could fall in love with their operating system. This is a movie I look forward to seeing again, there is so much to take in, and I think it will only get better with multiple viewings.
I want to talk about one last film, Inside Llewyn Davis. I'm a huge fan of the Coen Brothers, because they are able to dip their toe into almost any genre and create incredibly well made, nuanced films. If you were to watch the 2011 film, True Grit, you would think that they had been making Westerns for years, but that's just how good they are. Inside Llewyn Davis is the story of an aspiring folk rock singer from the Greenwich Village seen who never makes it. It's a film about what happens when the ambition to create great art, meets the harsh realities of the world. The Coen brothers seem compelled to remind their audiences that life is not fair, and the best we can do is get over this fact, laugh into the face of a chaotic universe, and get on with it. It would have been so easy for the movie to end differently than it did, but that we've all seen that movie plenty of times.
The music in Inside Llewyn Davis is amazing. It captures the early folk scene sound while also feeling timeless. Oscar Isaac, who plays the lead character from which the movie is titled, actually sang the tracks in the film. There's this wonderful desperation and earnestness that comes across in the songs. Isaac's performance in this film is essential to making it as great as it is. It's a real shame he didn't get nominated for Best Actor at the Oscars. As a creative type, the themes of this film hit like a sledgehammer. It was painful to watch at points, heart wrenching. Just add this to the list of specular works in the Coen's oeuvre.